On the 11th hour of the 11th day of the 11th month of 1918, the allied nations and Germany in World War I declared a temporary end to their hostilities. A formal agreement, an "armistice" was signed shortly thereafter concluding the "war to end all wars." The next year, President Wilson called for the observance of the anniversary of the agreement and the honoring of those who fought to be known as Armistice Day. This became an annual national holiday in 1938. After World War II in 1954 President Eisenhower renamed the holiday to "Veterans Day" to honor all veterans who have served the United States in the military.
The red poppy became a symbol of Veterans Day as well as Memorial Day. In 1920, the American Legion formally adopted it as such. The inspiration for the poppy as a symbol was the blooming of the red poppy on the fields of Europe that had been otherwise devastated by the war. The poem "In Flanders Fields" by John McCrae, a Canadian physician, was written during the war as the poet as an ode to those who died in the Battle of Ypres in the County of Flanders in Belgium.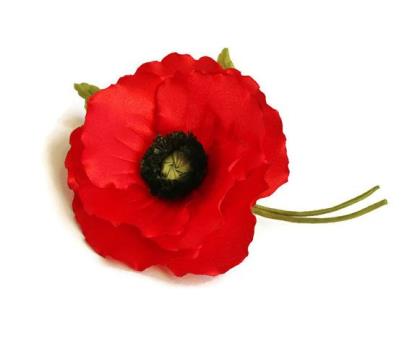 Let us pray. Almighty God, we give you thanks for all who have served our country in the armed forces defending us and the freedoms we enjoy from attack. Bless them and their families. Heal all wounds of war they have suffered whether physical, emotional or spiritual. Help us to recognize and honor the sacrifices they have made. And we pray for all who are currently serving. We commend them to your gracious care. Defend them day by day and strengthen them in all trials. Grant them a clear sense of your abiding presence. In the name of Jesus, Amen.